The river Bystrica is a right-hand tributary of the river Hron, it has a length of 22.9 km and water managers have assigned it to streams of third order. It springs in Veľká Fatra, in the sub-unit of Hôľna Fatra, below Kráľová studňa (1,384 m above sea level) at an altitude of around 1,260 m above sea level. m.
Many tourists, and surprisingly even "experts", mistake the Bystrica spring for the Kráľova studňa spring, which is also in the Krížna massif, but a few tens of meters further. The spring of Bystrica is inconspicuous in the dry season; it manifests itself especially at the time of precipitation. Wetlands became a watering place for grazing cattle, damaging the spring. The unimproved spring site did not benefit from the nearby hiking trail either. In 2017, the site of the spring was revitalized with the help of the Banská Bystrica Rotary Club in cooperation with the Slovak Water Management company š. p. OZ Banská Bystrica and the city of Banská Bystrica.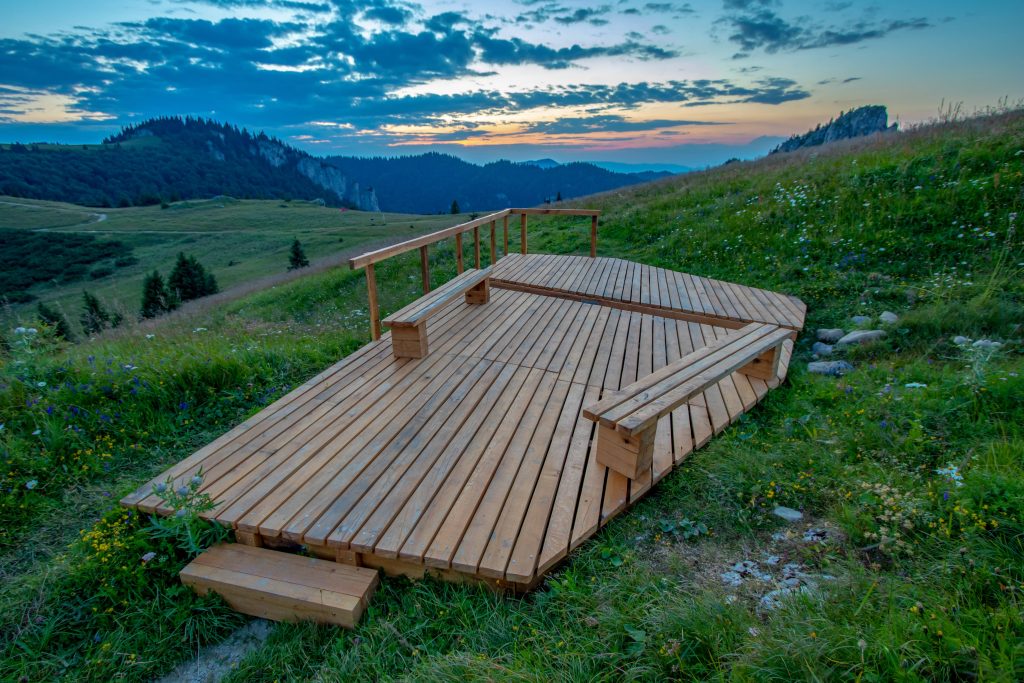 It was possible to create a wooden bench from local natural materials that serves as a memorial place. The bridge allows the spring to flow freely, between large stones, whose role is to increase the humidity in the spring during the dry season. There are wooden benches and information boards. The architect of the project is Vladimíra Tomala in collaboration with Lukáš Cesnak.
In the ravine below the mountain hotel Kráľova studňa, at an altitude of 1,042 meters above sea level, the first tributary rises and flows south through the long Bystrická valley. It receives only shorter tributaries from both sides, and its flow curves sharply. At the end of the valley, it creates a gorge and cuts into the Harmanecká valley. The Harmanec stream rises from the right and flows through the territory of the Dolný Harmanec village further to the southeast. The Cenovo stream then rises from the right side and flows through the village of Harmanec. At the end of the Harmanecká valley, the Košiarsky stream rises to the right, then the watery Starohorský stream to the left and enters the Starohorské vrchy. It flows through Uľanka, joins the Banský stream from the left, and flows through Jakub into the territory of Banská Bystrica and at the same time the Zvolenská basin. Here, the Laskomer stream rises to the right and at an altitude of 349 meters above sea level, at river kilometer 191.4. empties into the river Hron.
In his masterpiece Notitia Hungariae novae historico-geographica, Matej Bel describes the then "river condition" in Banská Bystrica as follows:
"The main river of the entire area is the Hron, which flows into our region from the Gemer territory. First, it will take the Ľubietovčany river, then it will visit the small Slovak town of Ľupča. In these places, it raises its calm and wide river bed, as if to pay tribute to the city, and approaches Banská Bystrica, where it splits into two branches. Those arms will join in Banská Bystrica. A calmer flow washes the city walls on one side and the foot of the very steep Urpín hill on the other, until it finally receives the Bystrica river flowing from the city."
Matej Bel considers the confluence of the Bystrica and the Hron to be the oldest part of the city of Banská Bystrica: "The Saxons, starting with the construction of the city from the churches, dedicated the first building in the city of Banská Bystrica to St. Elizabeth in a low-lying area, not far from the place where the spring Bystrica flows into the river Hron."